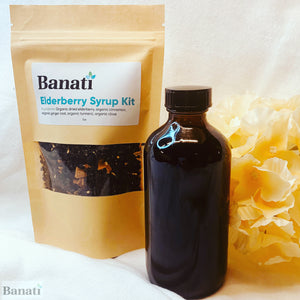 (BOTTLE NOT INCLUDED) Our DIY Elderberry Syrup Kits contain TOP QUALITY & ORGANIC IMMUNE BOOSTING ingredients which are...  
Organic Freeze Dried Elderberry 
Organic Cinnamon
Organic Clove
Organic Ginger 
Organic Turmeric 
WHAT YOU NEED: 
- 3 1/2 CUPS DISTILLED/FILTERED WATER
- 1 CUP RAW/ORGANIC HONEY
 - 16 oz glass jar with airtight cover/seal. 
Directions:
Pour water into a medium saucepan and add the (BANATI) Organic Mamas DIY ELDERBERRY KIT BLEND.

Bring to a boil - cover and reduce to a simmer for 45 min to 1 hr until the liquid has reduced by half.

Remove from heat and let cool enough to handle.

Mash the berries carefully using a flat surfaced utensil and pour liquid through a strainer/cheesecloth into glass jar/bowl.

Discard the elderberries and let the liquid cool to lukewarm.

Once cool, add the honey and stir well.

When the honey is well mixed into the elderberry mixture, pour the syrup into a glass bottle/ mason jar

Store in the fridge (Upto 3 months) and take daily for its immune boosting properties and to reduce cold/flu symptoms. Daily Precautionary Dose: 1-2 teaspoon daily for adults - half teaspoon daily for children ages 1 — Dose for Cold/Flu symptoms - 1 tablespoon twice daily for adult - 1-2 teaspoons daily for children ages 1
NOTE ** These statements have not been evaluated by the Food and Drug Administration (FDA). These products are not meant to diagnose' treat or cure any disease or medical condition. Please consult your doctor before starting any exercise or nutritional supplement program or before using these or any product during pregnancy or if you have a serious medical condition.
Kids are loving it!
Was worried my kids wouldn't take the syrup but they love it and actually ask for it! They've been taking it for a boost since they've been back at school and so far we're all loving it! Many sick kids in their classes and my kids are just fine! Hubby was sick with the flu and he only had broth and this syrup to get better and was over it in just 2 days!!!
Amazing!!!!
This recipe is amazing and helps my 3 year old so much!!! Natural way to avoid sickness.
Cant wait to get more, highly recommend!!
Delicious and Fast acting!
Love love love my elderberry kit. Already ordered 2 more to make for Christmas gifts for family. My home smelled like magic while simmering on the stove. My husband and son now take a daily dose with zero hesitation. Thanks so much!
Immunity boost
What a great way to naturally boost your immune system during rough winter months. The preparation process is super easy and fun to do with your kids. When simmering the berries, it fills the house with wonderful fruity and spicy smell. It tastes sweet and flavourful. We all take a shot of it every night, and sometimes my wife will make a tea out of, just to slowly sip and enjoy the taste.
Definitely two thumbs up and 100% recommend to a friend
Love this recipe
Love it can't wait to order more!!!