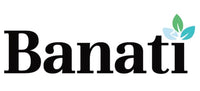 Where it all started...
The word Banati means "My Daughters". And my daughters are the reason why The Banati Brand was created! My goal is to create a SELF LOVE line for MAMA as well as a GENTLE LOVE line for Baby so EVERYONE is taken care of! Because Mamas we deserve it xo 
Once I became a mama I was faced with so many product choices, how would I know what would be good for my child. I started to read the labels of everything I came across because I had little munchkins depending on me to give them the best care possible. My daughter was a blessing I was not going to take lightly as I am sure you feel the same way about your own children.

That's when my mind was blown because I was shocked to see the endless amount of horrible ingredients added to both my baby's products and even mine!
I decided then that I would need to create my very own and as family and friends went on years enjoying my concoctions I thought it was time to share it with you too!
With All Natural and Organic Ingredients you can confidently use our products  GUILT FREE!
From one Mama to Another
From my Family to Yours 
With Love!
Image slide

Tell your brand's story through images
Image slide

Tell your brand's story through images
Image slide

Tell your brand's story through images
Image slide

Tell your brand's story through images
Image slide
Tell your brand's story through images
Image slide
Tell your brand's story through images
Image slide
Tell your brand's story through images
Image slide
Tell your brand's story through images